Culture
:
Municipal Theater of Corfu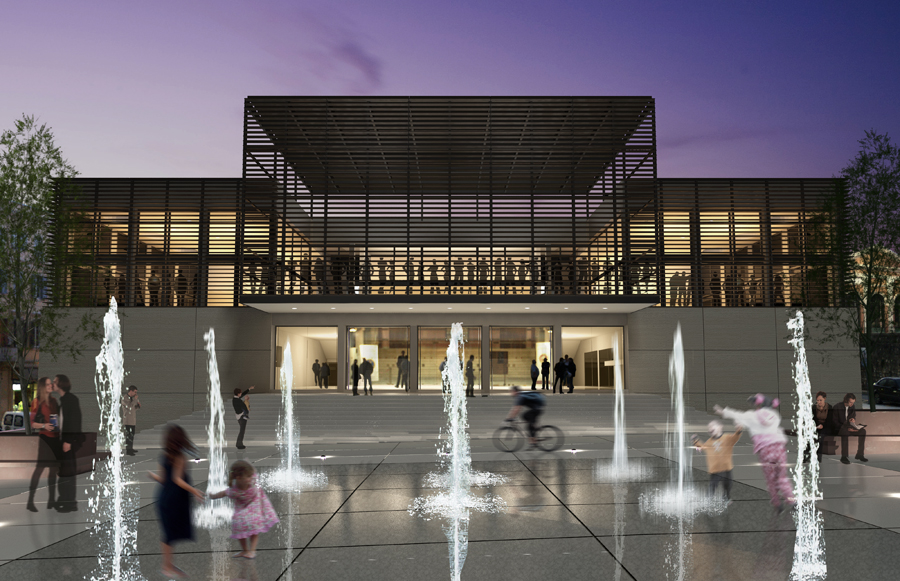 Awarded
2013
Domés Awards: Distinction & Exhibition
2012
7th Biennale of Young Greek Architects: Distinction & Exhibition
2010
1st Prize, National Architectural Competition
Architect
C. Tessas, S. Zerefos
Status
Competition schematic design
Design team
I. Armeni, T. Bristogianni, A. Kokkini
Structural engineering: C. Hatzopoulos
Economist-budget consultant: H. Tessas
The proposed solution for the renovation of the facades of the theater and the entrance piazza answers to the historical, functional, aesthetic, technical, environmental and economic issues posed in the competition brief.
Βuilding longitudinal section

Regarding the historical issues, the developed design responds to the matter of acceptance of the new building and to its comparison to the demolished Municipal Theatre by C. Pergolesi, through the sense of openness that is now offered inbreathes life to the theatre, transforming the building and consequently its entrance square to a recognizable meeting point, ideal for public gathering and play.
Night view from G. Theotoki & S. Desila st.
The building's functionality is highly improved. Most of the interior spaces are now accessible to people with reduced mobility and the entrance to the opposite building of the Prefecture is optimised. The expansion of the foyer on the first floor, the displacement of the ticket office, and the restaurant and cafeteria added, functionally organise the building and offer new spaces to be embraced by the public.
South elevation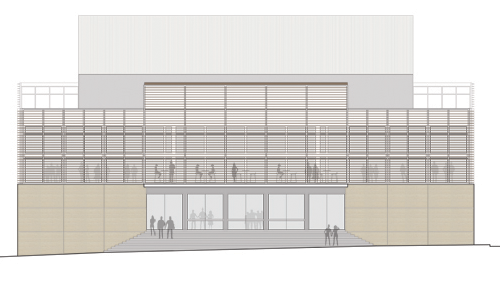 North elevation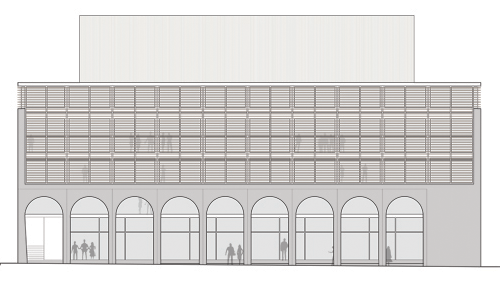 The arches situated on the side facades are closed with glass panels so that the previously dysfunctional archways are enriched with new cultural and commercial uses such as shops, bookstore and exhibition spaces. The creation of a second elevated square that dominates the main facade suggests a pleasant outdoor extension of the foyer that symbolically interacts with the square.
Theatre by night, a view from G. Theotoki & Mantzarou streets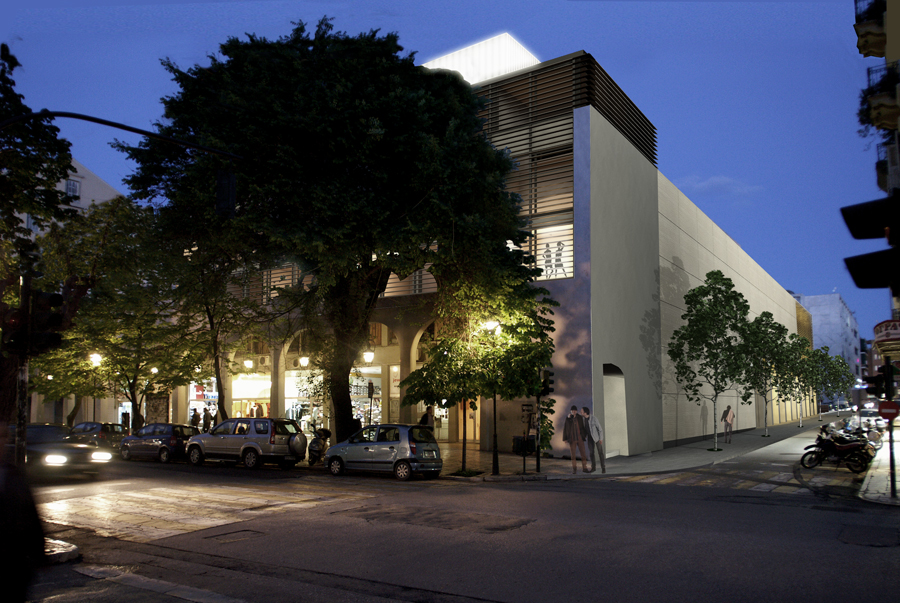 The offices of the art direction and the choir rehearsal rooms are renovated according to up-to-date functional specifications and, thanks to the new facades, enjoy the natural light and the views to the street. Simultaneously, the activity taking place inside is projected to the life of Theotoki road, making the theatre's presence strongly felt.
Building cross section
North east Elevation

The elevation of the chorus rehearsal rooms partially hides the theatre's fly tower, which appears lighter nonetheless, because of the proposed use of glass that is illuminated at night. As far as aesthetic quality is concerned, elements of the local architectural tradition are maintained and innovatively reused in the proposed design and attention is given to the playful alteration of transparency during the day.
Perspective of the entrance piazza and the theatre