Residential
:
Design team
V. Pantziou, Z.Tzounidou, A. Athanasiou, M. Tzafeta
The 210m2 vacation residence is located in the area of ​​Agkairia, in Paros island. The principal idea of ​​the architectural study arises from the building program given by the owners in combination with the possibilities and limitations of the local building regulations. Each of the four building volumes arranged lengthwise from south to north, has a different use.
Stages of the design process, model 1:200
South west perspective, model 1:100
General plan
The two central areas of the house, the living room and the kitchen, are located in the middle of the complex, while the other two parts, north and south, contain the family rooms and the guest bedrooms respectively. Three out of four volumes are separated from each other by atriums that give the possibility of natural lighting in the interior and ensure privacy since the life in the house is not directly exposed to the surrounding area.
East elevation, model 1:100
Τhe atriums are not immediately perceptible from the outside and they contribute to the separation of the whole into smaller building units. As a result, with these one-room or two-room volumes of the composition, a harmonious building integration in the architectural tradition of Paros and in the wider Cycladic landscape is achieved.
Western perspective, model 1:100
Staircase and entrance features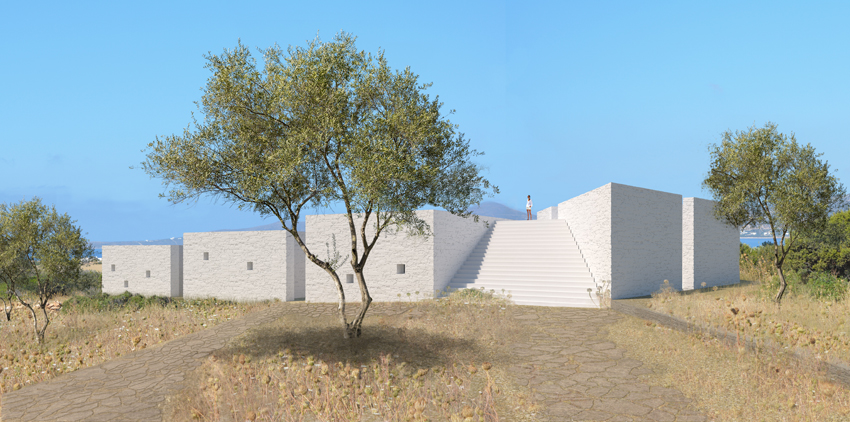 The proportions of the volumes, as well as the discreet external openings are inspired by the historic stone shells that we find in this area of ​​the Aegean for centuries.
The northern volume accommodates the two family bedrooms and is separated from the other residential parts by an external staircase that leads to the roof of the house either for the enjoyment of the sounding scenery or for the maintenance of the service elements.