Residential
:
Housing for the fire victims
Awarded
2008
1st Prize, National Architectural Competition
Architect
C. Tessas, S. Zerefos
Design team
I. Armeni, T. Bristogianni
The proposal was targeted towards a unified typology for different sized houses. Specifically, the proposed housing units are all developed on one level, whose two sides retain their dimensions, whereas the other sides can be transformed according to the areas needed.
Side facade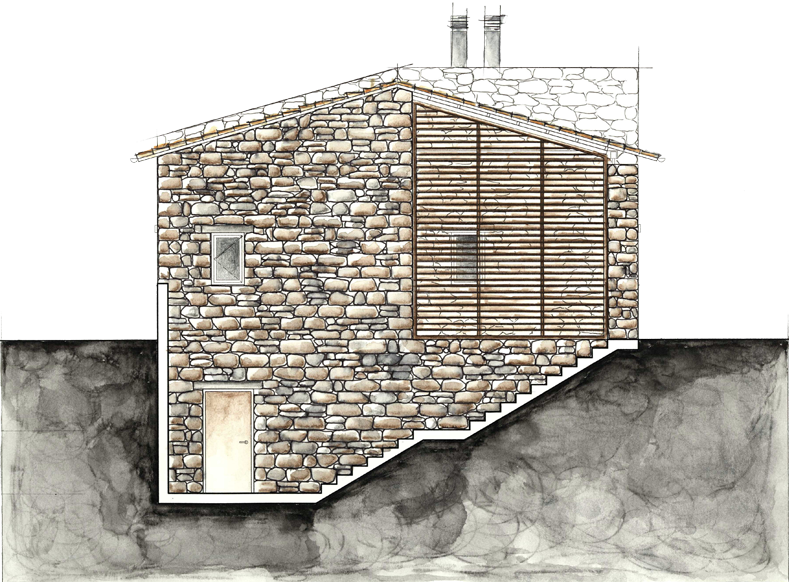 The reason for the above typology was the standardization of most building elements, so that the simultaneous restoration of many houses could be deemed possible. The external appearance, the proportions and the building materials are inspired by the traditional settlements of the area, while the interior spaces adopt the contemporary way of living.
Ground floor plan
In this way, the proposal aims at the development of a housing typology, which can be incorporated into the natural and the traditional environment, while at the same time it can be repeated, translated and blended into traditional settlements. The architectural study took into account low energy solutions, as well as environmental impact aspects.
Building back view

In particular, the external walls are stone masonry with an internal sheathing of insulated plasterboard. To this end, natural wood is used throughout the house from the slanted roof, to the windows and the specially designed shades.
Facade: entrance
Lastly, a high wall was used to incorporate all mechanical services, as well as a natural ventilation system based on the stack effect. The proposal for the 95 m2 house was awarded one of the fifteen first equal prizes among 116 proposals.
Side facade