Residential
:
Apartment in Mavili Square
2006 - 07
Mavili Square, Athens
The apartment in Mavili square is located in a typical apartment building constructed in 1958. The restoration aimed to maintain our experience when entering the building in the apartment's interior spaces as well, without, however, the strict use of the architectural vocabulary of the time but more with a sophisticated use of materials, as a means of creating a harmonious connection between old and new.
Dining room: a collage of art and books
Thus, in the main spaces, walnut wood and marble of Messolonghi were chosen, while in the kitchen we used orange solid surface worktops and resilient cabinets wrapped in vinyl film. At the same time, the old doors with the popular, during the 50's, floral sandblasted glass panes we repaired, as well as various gypsum neoclassical style ornaments.
Living room: Εntrance
Living room: a cozy corner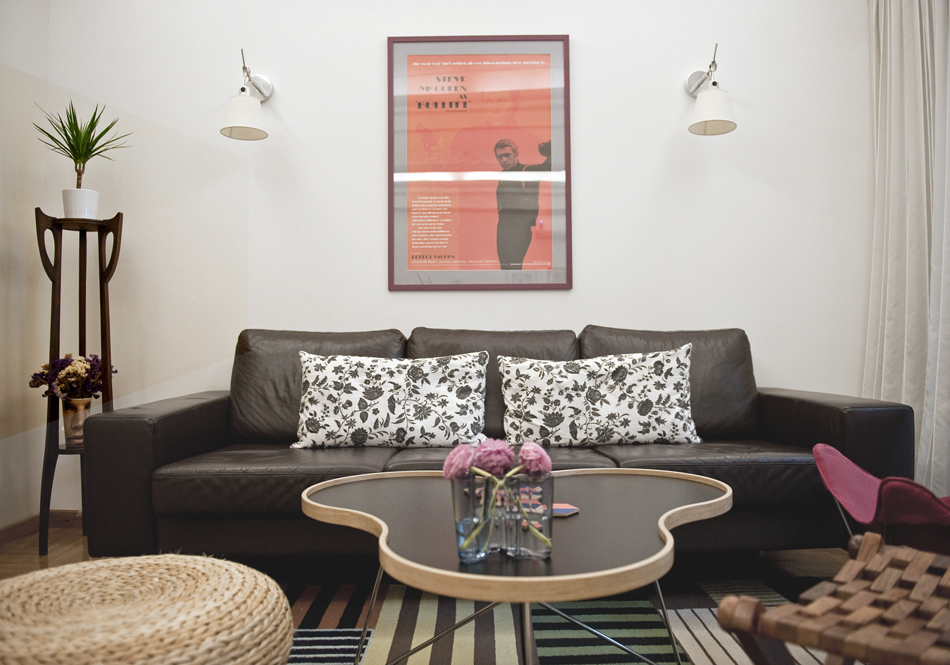 Those elements, regardless of the fact that nowadays are usually disapproved as kitsch, were considered as an important feature reflecting the aesthetic and social atmosphere of that time, that of urbanisation and social advancement.
Bathroom
Kitchen
Lastly, several of the furniture were designed (bookcases, tables etc.) and later manufactured by skilful carpenters and blacksmiths. The outcome seeks to blend and to architecturally comment on two worlds, the 50's and the modern aesthetic values, without depriving any of the two of the leading role.
Bedroom: relaxing pale colours