Education
:
Higher ground: kindergarten extension and renovation
Awarded
2019
3rd Prize, National Architectural Competition
Status
Competition schematic design
Design team
Z.Tzounidou, A. Mpalta, M. Tzafeta
Structural engineering: C. Hatzopoulos
Budget management: A. Spiliotis
Mechanical engineering: C. Ntatsi
Εlectrical engineering: A. Ntatsis
The purpose of the competition was the extension and renovation of an existing kindergarten located in Piraeus, in 34 Ypapantis and Papastratou streets. The architectural study took into account not only the current preschool architecture and educational theories but also the spatial restrictions of the existed building and the legislative constraints.
Longitudinal building section
West elevation
The new building is designed as a three-dimensional space, developed from inside out and forming a man-made topography. The outcome of the architectural proposition was defined by two major problems: the unsatisfactory insolation of the garden, placed at the north edge of the site, and the poor quality of urban surroundings and the playground itself.
Ground floor plan: toddler classrooms
First floor plan: outdoor playground
As a result, the solution for these issues was specified by two design principles. Firstly, the requested level addition is positioned 3 meters above the existent flat roof and not directly on it. The new in-between space  is composed by an extended playground partly covered, exposed mainly to the south sunlight and open to the adjacent park.
Playground perspective
Classroom interior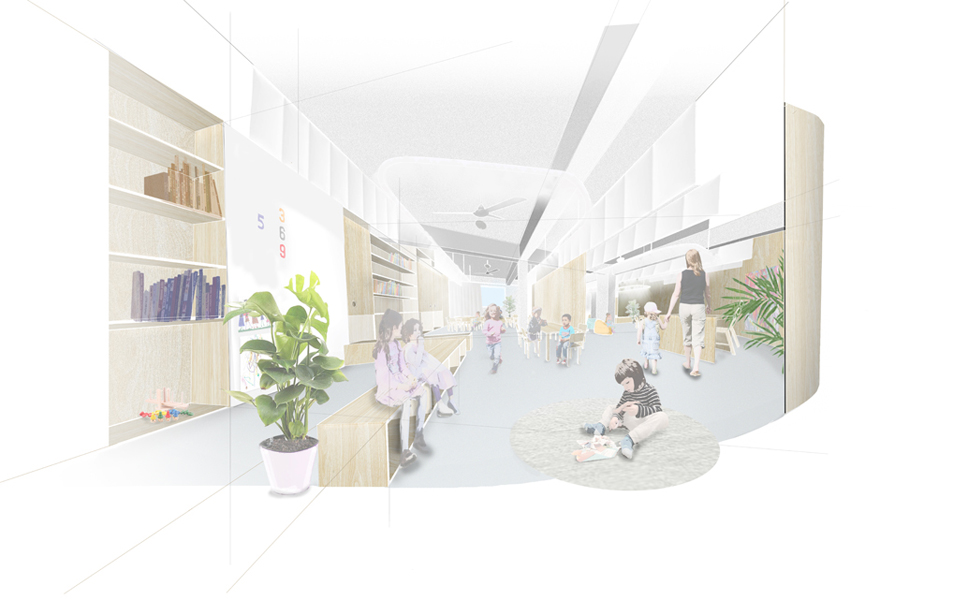 Secondly, access to the new playground on the flat roof is succeeded by forming a sloping landscape that connects the entrance and the upper level. This configuration shapes the main building elevation and functions also as a ramp with 6% inclination, a convenient degree of sloping for all users.
Kindergarten exploded axonometric
The new design proposal, comprised of two building masses and a flowing landscape with narrative and sensorial qualities, aims for the creation of a vibrant spatial layout that fosters both community activities and individual kids development.
Building section
South elevation
Existing condition of the kindergarten