Workspaces
: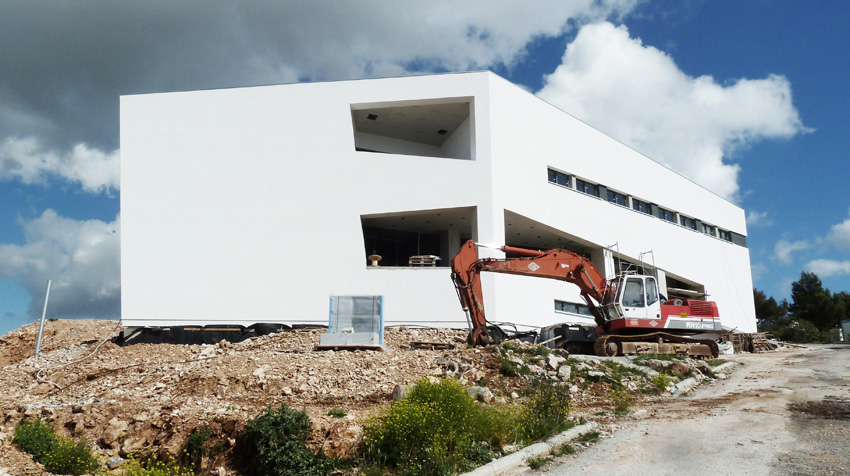 Architect
C. Tessas, S. Zerefos
Design team
C.Stavropoulou, V. Ganiatsas, Η. Armeni, Τ. Bistogianni, Α. Κokkini, Μ. Τsoukatou
Structural engineering: Α. Sarkoula
Mechanical engineering: Ν. Μilas, Α. Μarousis
The new building of the Geodynamics Institute is being developed at the existing building complex of the National Observatory of Athens on Mount Pendeli. The main intention of the architectural design was the generation of a research centre for seismic activity able to house educational and cultural events.
Model photo 1:200
The solution to this task was the development of a building, bounded by a series of vectors that interpret the topography of the site, reflected on the form of the building and on the interventions made to the surrounding environment as well.
Under construction: South street view
The outdoor spaces that encircle the Geodynamics Institute integrate with the existing research institutes by presenting ways of approach, while they can also be used as spaces for open-air educational and cultural exhibitions.The main entrance is situated at the northern facade of the building, leading to the central lobby area, which offers a panoramic view of Mount Hymettus and the Mesogia area of Attica.
South-East view
South-West view
The organisational structure of the new building is apparent by its four levels, each one housing different functions: The upper level is used exclusively by the researchers and apart from office spaces includes conference rooms, a library and a reading room. The level of the main entrance is mainly used for the circulation between the different floors, while it houses a cafe, with the necessary dining areas and the offices of the administrative staff.
Under construction: three-axis concrete roof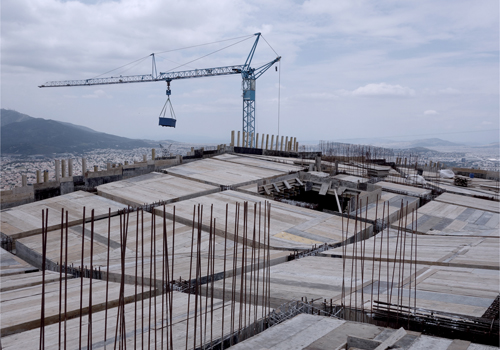 Under construction: double height operation wrapped inside the ramp
The ground level, which is accessed by the entry space through a ramp, contains the main two cores of the Geodynamics Institute: the amphitheatre, which is used for educational and cultural events, apart from the hosting of conferences, and the Operations Centre, in which the seismic activity in Greece is analysed. At the same level one can also find the technical staff offices.
Under construction: Building entrance
Under construction: Central skylight detail
Finally, the basement houses all supporting functions, such as the spaces reserved for electromechanical installations, storage rooms, electronics and telecommunications laboratories, as well as the seismologic station of Pendeli which seats on independed foundations to avoid vibrations.
North view
The participation in the design of the new building for the Geodynamics Institute was completed voluntaringly free of charge in the framework of our contribution in the refurbishment of the National Observatory of Athens building infrastructure.
Model photo 1:100